St. David's Day party March 1st 2021
Because of the restrictions on travel and public gatherings due to the Covid lockdown, we weren't able to meet in person to celebrate St. David's Day in 2021.  Instead we marked the occasion by meeting online via Zoom – this was a first for us and we unsure of its success, but in the event everything ran smoothly and successfully and was greatly enjoyed by all those present online.  It also had the benefit of giving people from all parts of Ireland the opportunity for the first time to join in with our St. David's Day celebrations.
During our remote socialising in the first 30 minutes or so, Angharad and Justin announced the winner of the art competition who was Greta from Offaly (who was online with us at the time), for the following drawing: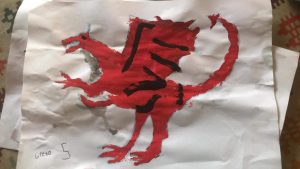 Our quiz on Wales and the Welsh was won by Greg Owen and was followed by a series of music videos and readings presented by Richard Morgan ('Can yn Ofer' and 'Môr o Gariad') and Gareth Llwyd Jones, who presented 2 videos of Dublin Welsh choir, the second of which was a performance of 'O Gymru' given in our St. David's Day function in the EPIC Museum in Dublin in March 2020, their last public appearance before lockdown.
The Welsh actor and singer/songwriter Ryland Teifi, who now lives in Waterford with his Irish wife Roisin Clancy and family, was unfortunately unable to join us in person but sent us this video for us to share on the evening:
We were also treated to some live singing over Zoom from Catrin Prys-Williams in Dublin and Nan Lloyd Guinan in Offaly.  Nan led us in a performance of 'Moliannwn' and Catrin accompanied herself singing the song 'Carol Catrin', which had been written and dedicated to her by her relative Aneurin Prys-Williams.
After further remote socialising we finished the online session by playing this rousing performance of Hen Wlad fy Nhadau by the crowd at the old Cardiff Arms Park prior to the New Zealand game in 1967, to which we were all invited to sing along (while muted, of course….):
2019 Annual General Meeting
We were unfortunately unable to hold our Annual General Meeting as planned on Nov 7th 2019 due to the unexpected unavailability of a private room at our venue on the evening.  In the light of this, we are making available online the following information that was to be presented at the meeting:
Minutes of 2018 meeting
Chairperson's report
Secretary's report
Treasurer's report
Report on the status of the plan to erect a plaque on the Welsh chapel in Dublin
St. David's Day 2020
In the absence of being able to hold a committee election, the existing committee has agreed to continue to serve for 2019-2020.  The committee members are:
Richard Morgan (chairperson)
Anne Buttimore (secretary)
Geraint Waters (treasurer)
Gareth Llwyd Jones
Andrew Thomas
In addition Angharad Williams and Justin Smith have been co-opted to serve on the committee for 2019-2020.
Responses to any of the above information, or comments or suggestions about any other aspect of the society may be made by sending an email to info@welshsociety.ie or by leaving a comment in the box at the bottom of this web page.  Any communications received in this way will receive a response after consideration by the committee.
Learn Welsh with Duolingo
Duolingo, the free language-learning platform, now contains support for learning Welsh.   Duolingo includes a language-learning website and app for mobile devices, and provides extensive written lessons and dictation, with speaking practice for more advanced users.   The app is available on iOS, Android and Windows 8 and 10 platforms with over 120 million registered users.  The Welsh course has in excess of 70,000 users from all over the world and there is a group on Facebook where users can discuss matters related to the course.  For more information, visit the Duolingo website on https://www.duolingo.com or download the mobile app from the Apple App Store or Google Play Store.
Draig Werdd committee member Richard Morgan is one of eight contributors to  the Duolingo Welsh course.   You can contact Richard for information or assistance in using the app by emailing him on welshclass@welshsociety.ie.
Protected Status for
the old Welsh Chapel, Dublin